Scott Prospect Enduro Goggle Black / White
$129.95
The Prospect Enduro possesses the same great features than the Prospect goggle. It comes with a double lens and gives the enduro rider a maximum field of vision due to the extra height of the lens. In addition, it features an innovative SCOTT lens lock system that makes the lens stay in the frame no matter what impact is coming from outside. To avoid slipping of the goggle, it is equipped with an extra wide, no-slip silicone strap. This strap together with articulated outriggers, highly contribute to the improvement of the helmet integration.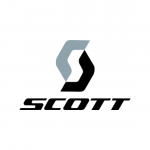 Description
Regular fit.
Lens Lock System.
Articulated outriggers.
NoSweat 3.2 face foam.
Extra wide 50mm no-slip silicone strap.
SCOTT TruView DOUBLE WORKS lens.
NoFog™ Anti-Fog lens treatment.
Microfiber goggle bag.
Noseguard.
Brand
SCOTT