WR Dual Oil Sensor Adaptor Yamaha YXZ1000R
$218.00
This kit is very universal and will fit pretty much all SxS vehicles with a spin on oil filter like the KN-204 / KN-198 / KN-303
or 4 fortnightly payments of $54.50 with
More info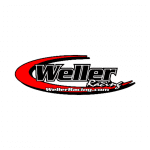 Description
WR Edition Dual Oil Sensor Adapter
Check out this product that we came up with after trying to figure out how to easily install oil pressure / oil temperature gauges on our engines. Just remove your oil filter and the bolt that holds it on. Add our adapter and spin it to any angle you need to clear the sensors, then tighten it down and install the oil filter. There are some oil filters that may not fit this adapter, but we know that the KN-204 fits.
Comes with:
Billet Adapter
Through Bolt
O-Ring
1x Plug (if you are only installing 1 sensor)
Threads on the adapter are standard 1/8″ NPT.
Use thread sealer on the oil sensor threads (not included)
Torque through bolt to 45 ft/lbs
This kit is very universal and will fit pretty much all SxS vehicles with a spin on oil filter like the KN-204 / KN-198 / KN-303
Brand
WELLER RACING