YXR660FA / YXR700FA Front (LH) Genuine Yamaha Brake Pad Kit
$71.99
Fits YXR660FA / YXR700FA 2005-2013.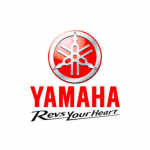 Description
Genuine Yamaha brake pads have been developed specifically for each Yamaha model in order to achieve the best braking performance and balance with the chassis.
The brake pads not only provide optimum brake performance for the vehicle, but also meet many other requirements, such as consistent brake feeling, long life, low vibration and controlling braking noise.
The Feature of Parts
Superior Braking Performance Developed in conjunction with the Engine, Suspension and Chassis
Optimized High Braking Power with Low Wear
Controlling Braking Noise and Vibration for a More Pleasant Ride
Brake Operation and Balance Designed to Provide the Maximum Riding Enjoyment
* Picture is for illustration purposes only
Brand
YAMAHA RACING